Key Findings of the Ranger's Perception Africa Survey
Posted on by Julia Wanjeri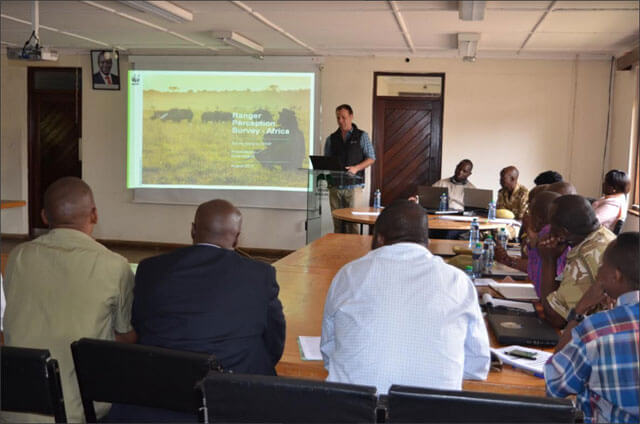 During the Conservancies Rangers Review meeting held on 30 August, Drew Mc Avery from WWF- Kenya presented the findings of a Ranger's Perception Africa Survey.
The survey was conducted in 65 sites in 12 African countries, namely Cameroon, Central African Republic, Republic of the Congo, Gabon, Kenya, Madagascar, Mozambique, South Africa, Tanzania, Uganda, Zambia, and Zimbabwe.
The purpose for the survey was to gain a deeper insight into the factors that affect the motivation of conservancy rangers and rangers' personal views of their working conditions, their concerns, challenges and rewards and how tackling of these factors can influence and improve government policy on wildlife security.
Role of Conservancy Rangers
The role of a conservancy ranger in the protection and preservation of wildlife in the country cannot be underrated.
They operate in the conservancies under harsh physical conditions patrolling to prevent livestock theft and poaching, often with inadequate equipment, pay and support.
Yet, conservancy rangers are at the front-line of conservation because their work entails patrolling, problem animal control, tour guiding, community liaison, and monitoring wildlife species.
Conservancy rangers are recognized in the Wildlife Act 2013 as wildlife security officers upon undergoing training at the KWS Law Enforcement Academy.
The newly launched National Wildlife Conservation and Management Strategy recognizes them as an important resource in minimizing wildlife threats in the country.
So what are their key concerns?
Rangers' Concerns
Findings of the survey revealed:
Nearly half of the rangers did not feel adequately trained for their job.
Nearly two-thirds of the rangers believed they did not have the proper training material to stay safe in the field.
Rangers' key motivation for their job was the closeness to nature.
The worst aspect of a ranger's job was the low or irregular salary.
That most rangers spend just 5-10 days with their family in a month was also noted as a key contributor to their low morale.
Asked whether they would recommend the job to their children, the low salary aspect was one of the key reasons that many of the rangers noted that they wouldn't.
The report also revealed that most the rangers faced life threatening situations from community members and other people while on duty.
The review meeting was made possible with support from WWF-Kenya, USAID Kenya and The Nature Conservancy.