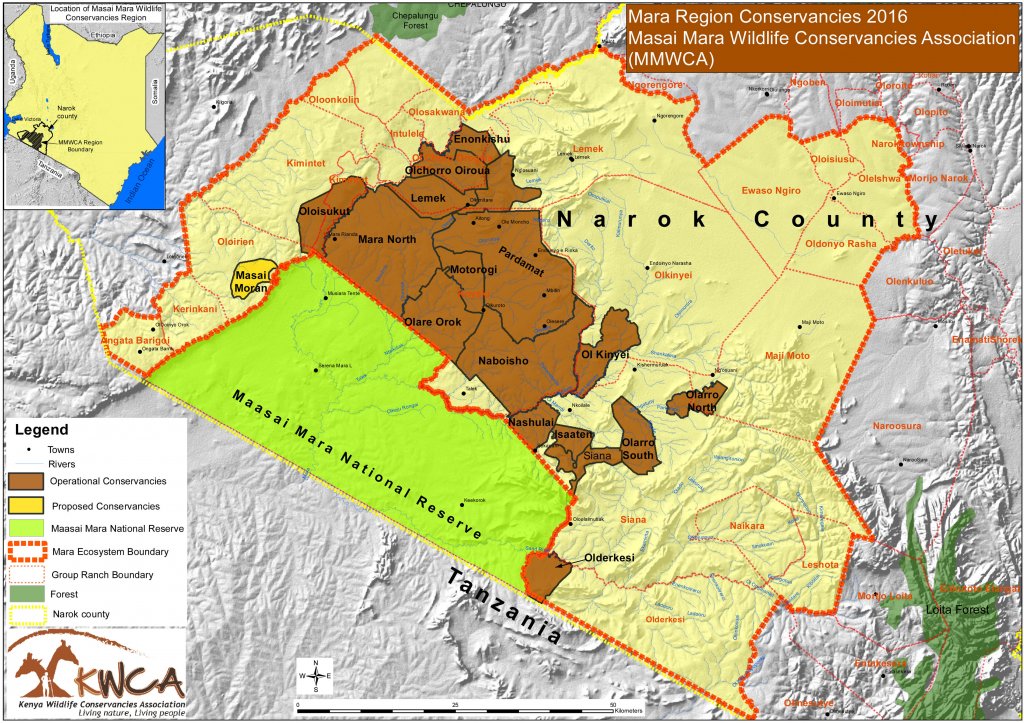 The Maasai Mara Wildlife Conservancies Association (MMWCA) works with 14 conservancies, covering 142,000 ha across the Greater Maasai Mara Ecosystem where almost 25% of the countries wildlife is found. The conservancies account for 142,000 ha of the 450,000 ha ecosystem extent. MMWCA was formed in 2013 to create a common and unified front for landowners and tourism partners to strengthen conservancies, raise issues and create large-scale impact.
Name: Maasai Mara Wildlife Conservancies Association
Size: 179,202 Ha
No. of Households: 106, 102 
No. Of Conservancies: 13

No. of Scouts: 241
No. Of Staff: 64
Enonkishu Conservancy
Lemek Conservancy
Mara Naboisho Conservancy
Mara North Conservancy
Mara Siana Conservamcy
Motorogi conservancy
Nashulai Maasai Conservancy
Ol kinyei conservancy
Olara Orok conservancy
Olarro Conservancy
Olchorro Oirowa Conservancy
Olderkesi Community Wildlife Conservancy
Oloisukut Conservation
Pardamat Conservation Area
The Maasai Mara Wildlife Conservancies Association's (MMWCA) mission is to conserve the greater Maasai Mara ecosystem through a network of community protected areas for the prosperity of biodiversity and wildlife, the regional Maasai population, recreation, tourism, and the nation of Kenya. Their core purpose is to enable strong and thriving conservancies across the Greater Mara Ecosystem.
The organization has identified nine goals to guide their work. These are centered on:
Sustaining, Developing and Creating Conservancies and Conservation Areas
Facilitating, Coordinating and Implementing Conservation and Social Development
Advocating for a Better Conservancy Framework
Fundraising and Promoting
12,800 members have been registered within the 14 conservancies supported by MMWCA, with a total of 106,000 conservancy beneficiaries within the landscape. The Mara conservancies are composed of 13 group conservancies and 1 community conservancy (Olderkesi), pooling land resources of 13,625 landowners (from 3,000 in 2015) in a contiguous landscape. The conservancies furthermore support 60-70% of local job opportunities, employing 258 rangers and injecting USD 464,500 annually through their salaries.
The Mara conservancies additionally directly paid Ksh 369 million in 2016 (up from Ksh 330 million in 2015) leasing fees to households (Figure 12). This forms a significant direct income to communities.
The African Wildlife Foundation, together with the people of Africa, works to ensure the wildlife and wild lands of Africa will endure forever.
Basecamp Foundation, Kenya, is a for-community-benefit foundation that supports innovative approaches to community economic empowerment, access to water, access to clean energy, access to education, access to health services and health education and appropriate technologies
Kenya Wildlife Trust was established in 2007 by leaders in the Kenyan safari industry, with the principle aim of strengthening the connection between conservation and tourism. They have established predator-monitoring projects in the Maasai MaraMara Cheetah Project and Mara Lion Project.
Mara Beef raise top quality Meat products on The Mara Beef Farm, as well as within the Enonkishu Conservancy on the edge of the Maasai Mara. Our animals are all grass fed, feeding on an irrigated forage mixture. We like to think the flavor is a testament of happy animals.
Mara Elephant Project saves and protects the African elephant population in the Mara by combatting the ruthless operations of poachers and fostering positive human-elephant relations.
The Olare Orok & Motorogi Trust was set up in 2009 to work with communities and other key stakeholders to uplift communities and enable the successful conservation of the Maasai Mara Ecosystem.
Rangeland Solutions is a not-for-profit social enterprise working to improve the environment and the livelihoods of African pastoralists.
Seiya Limited's aim is to continue to develop community conservation into a sustainable and profitable model to protect the Greater Mara Ecosystem.
Serengeti Watch was initially formed to oppose a commercial highway across the Serengeti National Park. It is a permanent nonprofit organization that will monitor the Serengeti and bring world opinion and support to bear on vital issues.
WWF's mission is to conserve nature and reduce the most pressing threats to the diversity of life on Earth.
Additionally, the strong tourism infrastructure, 40 facilities, has provided employment for 861 individuals. The 14 conservancies contributed Ksh 46 million in 2015 and Ksh 71 million in 2016 toward community development projects. Project highlights include 105 teachers trained, 9 classrooms built, 200 guides sponsored through Koiyaki Guiding School and 916 books distributed.
The Mara is categorized as one of the wonders of the world because of its characteristic biodiversity. Community conservancies have been shown to host increasing (2.6 times) lion densities of 11.87 lions/100km2 in their landscapes.5
Additionally, these lands contiguous to the national reserve offer prime habitat for ungulates that traverse the Mara-Serengeti ecosystem leading the phenomenal great migration. The lands have been shown to expand the ungulate habitats when they become available as the conservancy model expands. A recent aerial count by KWS indicated a 91% (2,493) increase in the number of elephants counted within the Maasai Mara Ecosystem since 2014 (1448). Creating this continuity in landscapes also supports the local pastoral populations, while new value addition activities such as Mara Beef creates incentives for good range management and livestock conditions.