Endangered and near threatened species such as the African Elephant, Cheetah, Rhino and Wild Dog are found within the conservancies. Through the scout network, poaching numbers have also reduced from an approximate high of 90% in 2012 to 73% in 2014.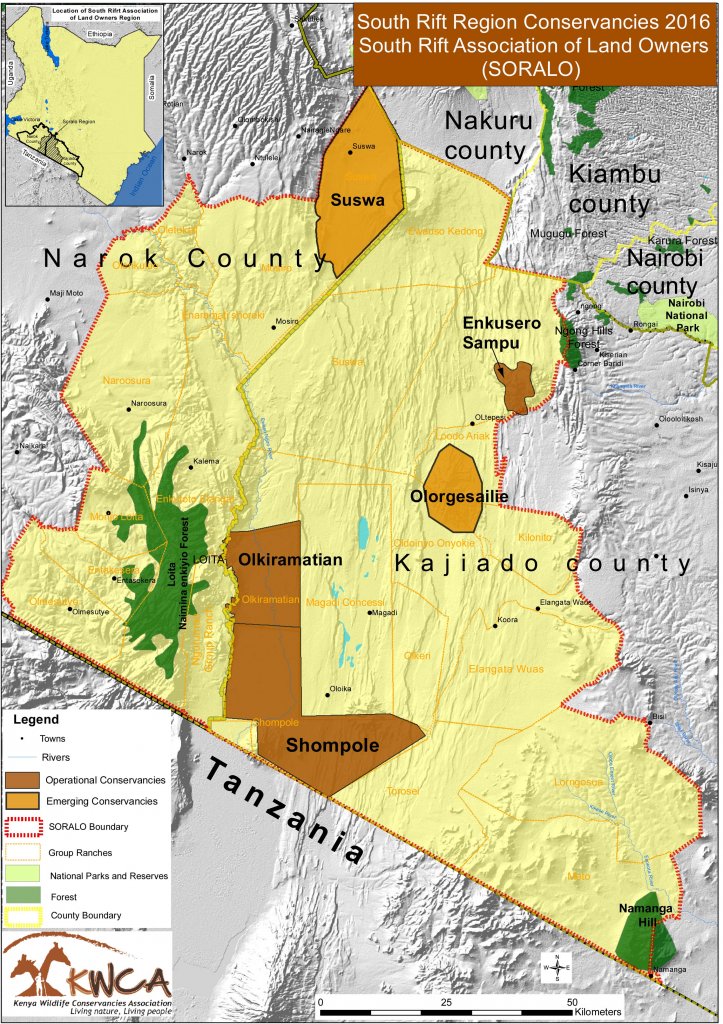 South Rift Association of Land Owners (SORALO), a Land Trust established in 2004, works to create pastoralist communities that are empowered to ensure security of tenure over their resources in a just and sustainable manner in order to improve their livelihoods. SORALO covers a critical area connected the Mara Ecosystem, through the Loitas and towards the Amboseli Ecosystem. It has also preserved cross-border linkages for pastoral and wildlife movements to Tanzania.
Name: South Rift Association of Land Owners (SORALO)
Size: 124,084 Ha
No. of Households: 48,169 
No. Of Conservancies: 13

No. of Scouts: 57
No. Of Staff: 57
Elangata Wuas
Empaash
Enkusero Sampu
Mailua
Suswa
Nailepu
Nalarami
Olepolos
Olkiramatian
Olorgesaile
Oltiyani
Orkonyil Association (Naimina Enkiyio Forest)
Shompole
The conservancies (core conservation areas) alone cover 124,000 ha, however the entire area of interest spans 650,000 ha. The core conservancies of Shompole and Olkiramatian host over 50% of Grant's Gazelles and Wildebeest, over 40% of Impala and Ostrich and over 30% of Zebra found with the area of interest.
Lion numbers have also increased within the core conservancies from ten to forty known individuals that have been monitored through the "Rebuilding the Pride" program.
SORALO approaches wildlife conservation primarily through understanding challenges to community livelihoods, and assisting to promote appropriate and compatible land uses to wildlife conservation such as pastoralism and tourism. Through it's Resource Assessor program, SORALO has trained Maasai youth on ecological monitoring.
African Conservation Centre's mission is to conserve biodiversity in East Africa and beyond through the collaborative application of scientific and indigenous knowledge, improved livelihoods and good governance through development of local institutions.
Borderland Conservation Initiative aims to conserve large, free-ranging elephant and lion populations along the Kenya-Tanzania borderland through coordination of conservation efforts and cooperation between key interest groups.
Elephant Voices advances the study of elephant cognition, communication and social behavior, and promotes the scientifically sound and ethical management and care of elephants through research, conservation, advocacy and the sharing of knowledge.
Mara Elephant Project saves and protects the African elephant population in the Mara by combatting the ruthless operations of poachers and fostering positive human-elephant relations.
The Mara Predator Project is building an identification database of lions in and around the conservancies north of the Maasai Mara National Reserve. By tracking individuals, they identify pride home ranges and population trends for effective conservation techniques.
Lion Guardians is a conservation organization dedicated to finding and enacting long-term solutions for people and lions to coexist across Kenya and Tanzania.
Save the Elephants conducts vital research on elephant behavior and ecology and pioneered GPS radio tracking in Africa to provide fresh insight into the life of elephants.
PAMS (Tanzania) support meaningful projects that conserve biodiversity, wilderness, habitats and ecological processes through actions that benefit nature and communities.
Trained Maasai Youth sit on community boards and grazing committees where they combine scientific information with traditional knowledge, managing wet and dry season grazing and maintaining grass-banks for extreme drought conditions. This has proved an effective and successful rangeland management system, and portrays a great learning example for replication of best practices. The program is housed at the Lale'enok Resource Centre, in Olkiramatian.