Athi Kapiti Wildlife Conservancies Association
Athi Kapiti Wildlife Conservancies Association was registered in March 2014 to represent communities and private ranches within the Athi Kapiti Plans that comprise an expansive dispersal area lying to the South and Southeast of National National Park.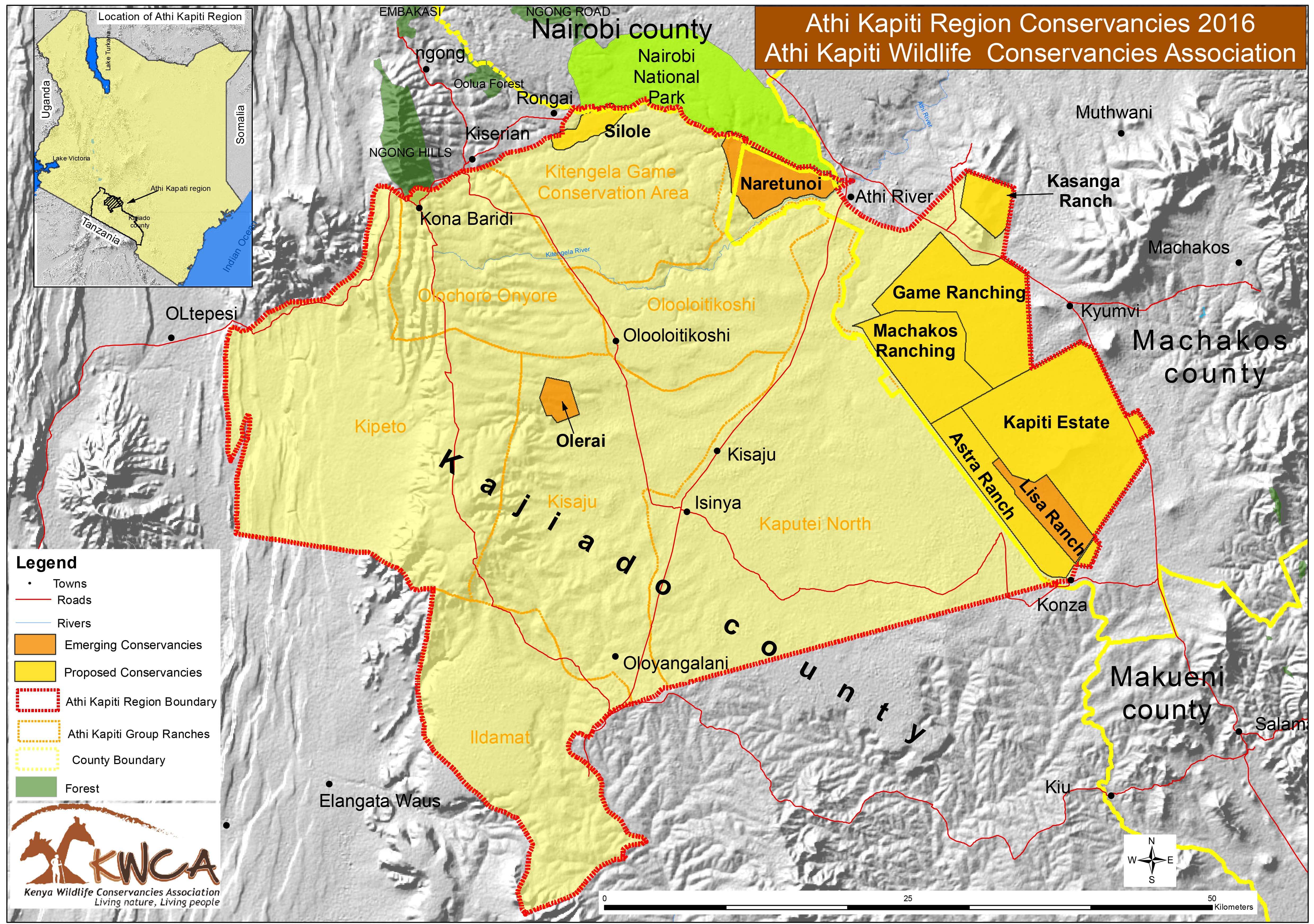 Name: Athi Kapiti Wildlife Conservancies Association

Size: 14,646 Ha
No. of Households: 1,777

No. Of Conservancies: 10

No. of Scouts: 48

Website: https://athikapiti.org/ 
ILRI Kapiti Wildlife Conservancy
Lisa Ranch
Lukenya Hills Conservancy
Maanzoni Owners Association
Naretunoi
Olerai Community
Rimpa Estates Wildlife Conservancy
Silole Sanctuary
Swara Plains
Ulu Conservancy
Athi Kapiti Wildlife Conservancies Association is still in its nascent stages registered in March 2014. This expansive dispersal area around the Nairobi National Park (NNP) includes the 6 ranches to the south, that amount to a block some 3.5 times larger than the park. It also creates a key corridor for wildlife movements between NNP and the Kajiado and Amboseli plains.
Over the last 20 years, the Athi Kaputiei ecosystem has undergone rapid and drastic changes that have affected land use mostly driven by expansion of human settlement, increased fencing, wildlife poaching, and construction of physical infrastructure has increased sand mining and quarrying.
Although these changes have generated economic opportunities for some, they have come at a greater cost to wildlife and to pastoral livelihoods in general; a recent study by a group of scientists led by Dr. Joseph Ogutu of the University of Hoheinheim in Germany provides evidence of the imminent collapse of the localised migration of the wildebeest.
AKWCA was registered in March 2014 and is categorised under start-up/conceptual phase by KWCA since they have demonstrated no growth since inception with non-functional governance and management structures as well as limited regional impact.
The conservancies below are categorised under 3 triangles. The Conservancies are spread in two counties; Kajiado and Machakos with a representative for each. The conservancies are also divided into  three triangles as follows;
Triangle 1: Naretunoi Conservancy, Silole Sanctuary, Rimpa Estate Conservancy and Olerai Wildlife Community Conservancy
Triangle 2: Lukenya Hills, Mutula Kilonzo Ranch, Kusyombunguo Ranch , Malinda Ranch and Muambi Ranch
Triangle 3: Maanzoni owners Association, Swara Plains, Lisa Ranch, ILRI Kapiti Estate, Astra Ranch, Konza Ranch, Machakos Ranching,
ILRI Kapiti Wildlife Conservancy
Lisa Ranch
Lukenya Hills Conservancy
Maanzoni Owners Association
Naretunoi
Olerai Community
Rimpa Estates Wildlife Conservancy
Silole Sanctuary
Swara Plains
Ulu Conservancy

Athi Kapiti Wildlife Conservancies Association is still in its nascent stages registered in March 2014. This expansive dispersal area around the Nairobi National Park (NNP) includes the 6 ranches to the south, that amount to a block some 3.5 times larger than the park. It also creates a key corridor for wildlife movements between NNP and the Kajiado and Amboseli plains.

Over the last 20 years, the Athi Kaputiei ecosystem has undergone rapid and drastic changes that have affected land use mostly driven by expansion of human settlement, increased fencing, wildlife poaching, and construction of physical infrastructure has increased sand mining and quarrying.

Although these changes have generated economic opportunities for some, they have come at a greater cost to wildlife and to pastoral livelihoods in general; a recent study by a group of scientists led by Dr. Joseph Ogutu of the University of Hoheinheim in Germany provides evidence of the imminent collapse of the localised migration of the wildebeest.

AKWCA was registered in March 2014 and is categorised under start-up/conceptual phase by KWCA since they have demonstrated no growth since inception with non-functional governance and management structures as well as limited regional impact.

The conservancies below are categorised under 3 triangles. The Conservancies are spread in two counties; Kajiado and Machakos with a representative for each. The conservancies are also divided into  three triangles as follows;

Triangle 1: Naretunoi Conservancy, Silole Sanctuary, Rimpa Estate Conservancy and Olerai Wildlife Community Conservancy

Triangle 2: Lukenya Hills, Mutula Kilonzo Ranch, Kusyombunguo Ranch , Malinda Ranch and Muambi Ranch

Triangle 3: Maanzoni owners Association, Swara Plains, Lisa Ranch, ILRI Kapiti Estate, Astra Ranch, Konza Ranch, Machakos Ranching,