Community Conservancy Ranger Receive African Paradise Rangers Award
Posted on by ADMIN KWCA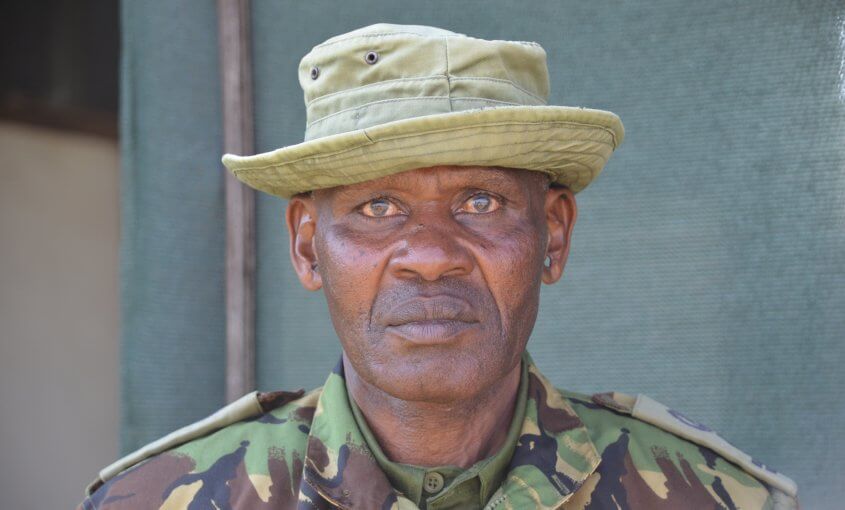 Josphat Kasaine ole Kosikir 63, is among 18 Kenyan rangers and 50 from Africa to be awarded the 2018 African Paradise Rangers Award by the Alibaba Foundation and Paradise International Foundation. The rangers were awarded a $ 3,000 grant each for support in their exemplary efforts in protecting Kenya's natural heritage.
"It was unimaginable when I heard the news." The father of 10 said.  "Not often you get to hear of community rangers being awarded for their exemplary work." He said.
Kosikir has worked in the Mara conservancies for the last 23 years as a conservancy warden for Mara North Conservancy, former Koiyaki-Lemek Group and currently working at the newly formed Nashulai conservancy. Besides working as a conservancy warden, Kosikir has trained over 300 rangers drawn from Olchoro, Lemek, Mara North, Naboisho and Nashulai conservancies. The training lasts up to 2 months where he trains on field tactics, discipline, handling poachers arrest and wildlife behaviors with his friend Benjamin Koke a former KWS Warden.
Kosikir says the work of a community ranger is not an easy undertaking it comes with different challenges. "On one hand, we encounter poachers who are armed, and since community rangers are not armed and which is for the right reasons we often get attacked and on the other hand, some communities are misinformed about the nature of our jobs and often make it difficult for us to do our jobs effectively."
While the job of a community ranger comes with its own challenges, it's a fulfilling one for Kosikir who wouldn't trade it for any other. "I'm always happy when the community and guests show gratitude for my job. It gives me satisfaction to see the numbers of wildlife increase in the conservancy and communities thriving from tourism employment and livestock eating plenty of grass because of effective grazing management mechanisms." He says. Kosikir, is grateful and sees the award as a gift from God for his many years of dedication, service and tireless efforts in wildlife conservation. Kosikir who was nominated by KWCA as part of supporting ranger's welfare, plans to use the grant to pay school fees for his four children who are still in secondary school and who are planning to get university education.
"The future for community conservancy rangers looks bright. Kosikir says. KWCA as the body representative of all conservancies in Kenya has accorded so much support to conservancy rangers by ensuring that their working standards are raised, streamlined and their efforts recognized at the local, national and international levels."
KWCA Community Conservancy Policy program supported by USAID East Africa office is working to ensure that policies affecting conservancy rangers are implemented as per the Wildlife Act 2013. Among the policies KWCA in partnership with KWS is working on is the conservancy ranger's policy to guide KWS in monitoring rangers training evaluation, deployment and their integration in conservancies. KWCA is also working with KWS to develop and maintain a register for conservancy rangers.