KWCA and Kenya Tourism Board enter into a partnership agreement to promote Tourism in Conservancies. 
Posted on by Admin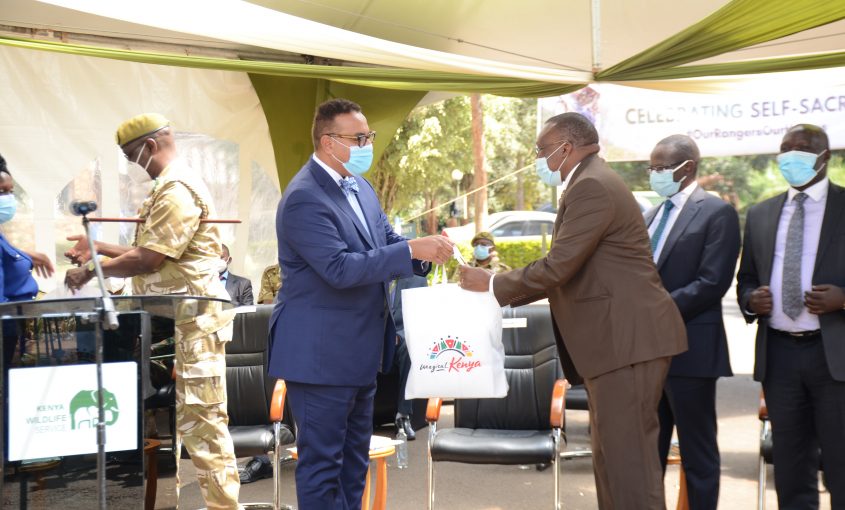 KWCA and the Kenya Tourism Board (KTB) have signed a Memorandum of Understanding (MOU) to collaborate in marketing and supporting wildlife conservancies as part of the tourism product diversification strategy in re-engineering safari experiences. The MOU signed on 3rd December 2020 provides a structure in which the two organisations will promote Kenya's wildlife conservancies as a niche tourist destination for domestic, regional and international travellers. 
Providing details on the MOU, KWCA CEO Dickson Kaelo committed to collaborating with KTB to differentiate and diversify tourism in Kenya. "By promoting conservancies as a unique product with diverse experiences that promote social cultural and nature-based experiences, Kenya will grow the national tourism market share, enhance investment to wildlife conservancies and increase the tourism share to local communities." He said. 
He noted that the overall objective of the MOU was to include wildlife conservancies as part of the government's tourism strategy to diversify tourism experiences and stimulate conservancy growth. He further noted that the two organisations would collaborate to strengthen branding and marketing efforts for conservancies as unique destinations to enhance travellers experiences through the Magical Kenya Signatures Experience program. 
Other areas of cooperation outlined in the MOU include; developing joint marketing plans, collation of information and data needed to promote wildlife conservancies as a differentiated tourism destination and participation in joint tourism activities and platforms. 
On her part, the Chief Executive Officer KTB, Betty Radier, welcomed the partnership noting that conservancies provide Kenya with a comparative advantage as a destination of choice, increasing the income share from tourism to local communities. 
Magical Kenya Signature Experiences Program 
Kenya's tourism is oversimplified, providing mainly wildlife safari, sun, and beach products often marketed seasonally, resulting in overcrowding of a few destinations. According to a world bank report, conservancies provide only 1.3 per cent of the tourism share, providing great potential to diversify Kenya's tourism product, grow the market share, and enhance investment and tourism flow into communities.
As part of KTB's tourism product diversification strategy, KWCA and KTB will re-engineer the safari experiences to take advantage of untapped natural and cultural spaces within the community and private conservancies in Kenya as a unique market segment. 
The MKSE program aims to promote a compilation of unique, authentic and exceptional Kenyan traveller experiences aligned to Magical Kenya's brand promise. KWCA and KTB will work to enhance the capacity of wildlife conservancies to design and share their unique experiences through the wider listing of conservancies' destinations, products, facilities and activities in Magical Kenya's Marketing campaigns.