We Now have the Right of Ownership to our Communal Land
Posted on by ADMIN KWCA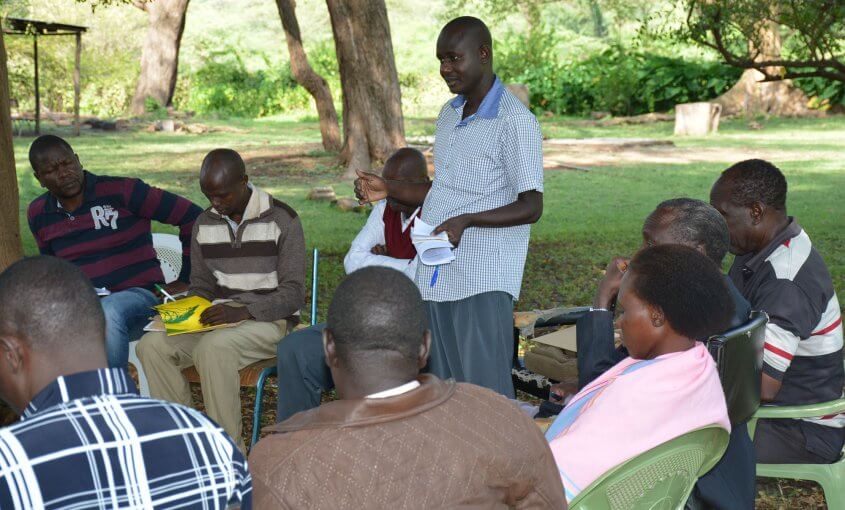 Kipkemei is jubilant that the Community Land Act is now been legislated. He is among the many community members who have lived on trust land and knows the fears associated with being a squatter in a land that belongs to your community. "I am glad we will now have the right of ownership to our communal land which was inherited to us by our forefathers." Says Kipkemei a community member of Kiborgoch Community Conservancy.
Kipkemei and other community members had waited for many years to get legal ownership to their community land that was held in trust by the county government. "We lived in constant fear that our land would be grabbed because we did not have legal ownership to the land." He says. The land which is endowed with breath taking landscapes and hosts over 300 species of birds has attracted many developers to the land. "we almost lost our communal land but luckily we got the information on time and proceeded to block the proposal by establishing a conservancy to secure our land rights" He adds.
The conservancy is also registered as a community based organization to uplift the standards of the community members by offering bursaries and promoting economic livelihood to women and youth through bee keeping and basket weaving. "This community land is our natural heritage. We derive a lot of benefits from it and we have to protect it so that our future generations can appreciate it and enjoy the benefits too." Says Kipkemei.
The Community Land Act has for the first time given communities a leading role in the governance and management of community land. "With the right to ownership means our conservancy can use the title deed as collateral to secure loans from banking institutions to develop community and tourism projects. Since its establishment, Kiborgoch Conservancy have received minimal support to support development projects. Investors have have promised support but the support was never realised because it was an unregistered land "Investors will now have confidence in our partnership because having a title deed is legally binding." He says.
Recently, Kiborgoch conservancy succeeded in lobbying the county government to revoke land allotment numbers that were illegally acquired by some members of the conservancy who had apportioned some acres of land without the knowledge of the community member. The Community Land Act introduces a community assembly whose quorum for decision making is adjudicated to not less than two thirds of the members of the assembly "I am happy community members will now be empowered through inclusion to participate in decision making processes affecting their land and to which their involvement is crucial in ending land grabbing and malpractices on community land." He says.
KWCA, through the 'Community Conservancy Policy Support and Implementation Program' (CCSP), supported by USAID Kenya and jointly implemented with The Nature Conservancy (TNC), has been advocating for the Community Land Act to increase the opportunities for development in wildlife endowed areas in Kenya which contribute to Kenya's vision 2030 of a stable and socio economically empowered communities protecting wildlife as a tool for poverty reduction. Also considering community conservancies form a significant constituent of its membership, KWCA role is to work with landowners and communities to sustainably conserve and manage wildlife and their habitat outside formal protected areas for the benefit of the people of Kenya.