World Rangers Day: Celebrating Lumo Community Wildlife Conservancy Female Ranger, Ludovika Malemba,
Posted on by ADMIN KWCA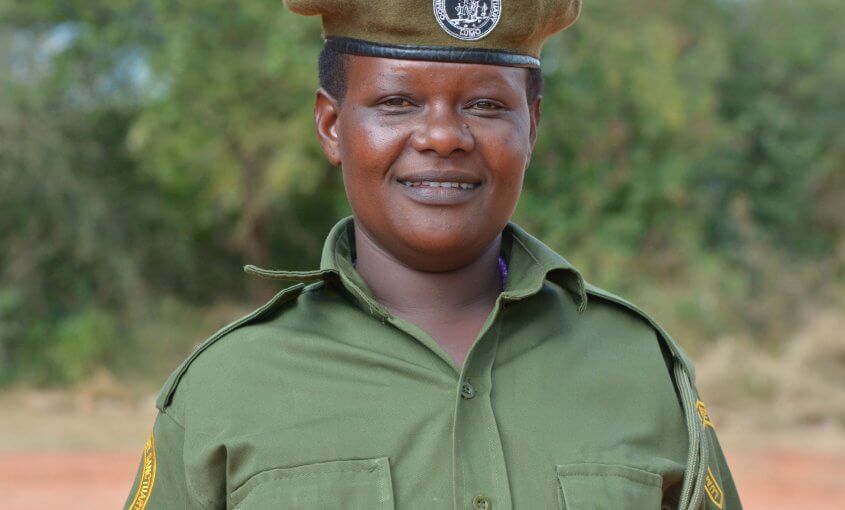 Forty-year-old, mother of four, Ludovika Malemba, a female community ranger from Lumo Community Conservancy emerges top in academics at the KWS law enforcement academy
Among 60 community rangers completing the Community Rangers training course at the KWS Law Enforcement Academy (KWS LEA) only 2 are female.
Ludovika Malemba stands out, she was awarded best in Academics, an achievement she describes as challenging, fulfilling and life changing.
At her duty station within the Lumo Conservancy head office, Ludovika is a celebrated achiever.  She is 40 years old, mother of four, wife and a leader to her team having worked at the conservancy for 17years.
She returns to her conservancy more motivated and determined to see the conservancy become the best in the Tsavo region.
Lumo Community Conservancy is a 41,613 Ha. conservation area, a vital wildlife corridor between Tsavo East and West, a link to the Taita Ranches and Mkomazi Game Reserve in Tanzania. It is an ancient elephant migratory route, and an important breeding site for lions and is the oldest and most promising conservancy in the Tsavo conservation area.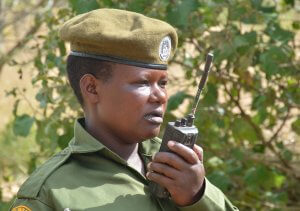 Ludovika works with a team of rangers from the local communities to protect wildlife from poachers, mitigating conflicts between community members and illegal grazers and accompanying visitors on game drives.
She is among the Lumo community rangers sponsored to attend the much sought after course by the African Wildlife Foundation with funding from USAID.
In April 2018, she was nominated to attend the three months training course among other rangers from Amboseli, Maasai Mara and Tsavo regions.
Best Female Ranger Academics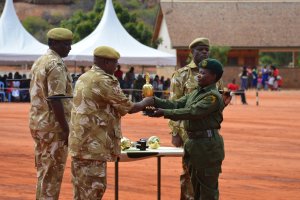 Ludovika reflects on her journey as a ranger and on the training, "Given my age and body size, I was concerned that the course physical demands are beyond my capacity, my male colleagues, most who were younger than me constantly reminded me of my own doubts, my many years at Lumo Conservancy and the many experiences I had bolstered my determination, I was committed to proof to myself that I can do it.
My persistence saw me through". A happy Ludovika adds "now I believe I am a role model and I want younger women to know that they cannot and should not give up." Walking around her base at the entry gate into the Lumo conservancy she is pleased that she has less weight, feels energetic and active ready to take on more responsibilities.
Community rangers play a vital role in conservancy management and often determine whether conservancy programs will succeed.
According to KWCA's State of Conservancies Report 2016, there are 2,991 community rangers in Kenya, only a paltry 1% are female. As mother, Ludovika, is fully aware that being a female ranger, in a male dominated and risk averse field comes with challenges.
A community ranger's job requires long hours under harsh physical conditions, working under the heat of the day or in the cover of darkness are normal conditions.
While on field security or monitoring patrols, injuries or even death from violent poachers, illegal grazers, and attacks by dangerous wild animals are all real dangers.
For Ludovika, as a mother and wife getting back home after a day's work is not a time to take a break, housework, feeding children and ensuring homework is done awaits her arrival.
Ludovika is quick to point that she is lucky, she has a supportive husband who takes care of their home and children in Wundanyi some 44km away. Her weekends provide an opportunity for family reunion, community work and visiting relatives.
For now, Ludovika is proud of her job and achievement and is eagerly waiting to put into practice what she learnt in Manyani she adds "the training at Manyani has helped me understand my role as a community ambassador, I will be able to raise awareness on issues around grazing following the conservancy by laws and the Wildlife Act. I will also be able to conduct effective patrols and collect wildlife data more effectively."
World Rangers Day 
As a passionate conservationist she encourages more women to become wildlife rangers since conserving our wildlife and natural places is the duty of all Kenyans, women included.
In anticipation she awaits to travel to Nairobi to attend the World Rangers Day on July 31st as one of the community rangers from the 12 ecosystems invited by KWCA to participate.
She is happy that wildlife rangers including community rangers are recognized globally for their efforts in protecting the world's natural heritage. Luvodika message to other Rangers during  2018 World Ranger's Day "let us celebrate our achievements and come together to support each other's efforts, there is a lot of work to be done in protecting our wildlife.
Watch Ludovika's below as she shares her experiences working as a female conservancy ranger.