Locally Led Adaptation: How Mr. Olbucket is adapting to Climate Change Impacts
Posted on by ADMIN KWCA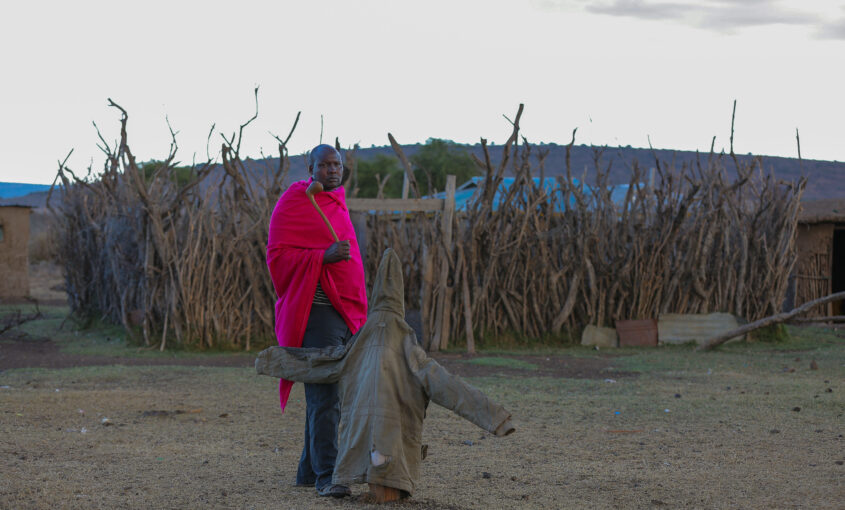 Climate change has become a universal term, but local people who experience and are the most impacted by it, seldom participate in the discussions around it.
49 year old Mr. Olbucket lives in his 80-acre piece of land situated in Eluai village within the
Pardamat Conservation Area, Maasai Mara
, a mixed land use conservancy model in the northern part of the Maasai Mara National Reserve, where the community and wildlife co-exist. He is among 850 landowners who have voluntarily offered their land for wildlife conservation.
Pardamat Conservation Area is a critical corridor for wildlife migrating from the Loita Plains to the Mara Triangle and to the Maasai Mara Game Reserve. It neigbours Naboisho, Lemek, Olkinyei and Mara North Conservancies.
Mr. Olbucket's homestead is not fenced, wildlife roams in and out of his boma. His cows, sheep, and goats graze with zebras, gazelles, impalas and wildebeests.
Mr. Olbucket constructed a water pan a few meters from his house for elephants to drink from and to deter them from breaking his water storage plastic tanks.
"I have no problems with Elephants, they will come and drink the water from the pan and leave." He says
However, the prolonged drought experienced in the last 4 years has led to water and pasture scarcity for both wildlife and livestock.
Pastoralists such as Mr. Olbucket have employed different adaptation strategies to address climate change impacts. He has sold some of his cows to spare them from the torment of water scarcity and has moved others to other areas with more pasture to allow wildlife to have the little water remaining before the next rain season. When the weather is friendly, he purchases more livestock, fattens, and sells them. This strategy becomes a cycle as seasons change.
The term climate change does not resonate with Mr. Olbucket, but he knows weather patterns have changed, "Calmer days have become windy, dry seasons are more prolonged, cold seasons are now hot, long rain seasons are short seasons. It's unpredictable." He says. He can only find strategies and ways of adapting to climate change impacts. "I have also heard that some areas with forests do not have rains, i expected these areas to be different from here but it seems we are all affected.' He adds.
He is awaiting for the El nino rains that is expected in October citing that floods would help them cope much better than the current drought.
Meanwhile, Mr. Olbucket livelihood is dependent on the conservation lease fees he receives from being a member of Pardamat Conservancy. He can buy food, pay school fees, and afford other basic necessities.
As the world congregates in Nairobi for the Africa Climate Summit and Africa Climate Week (ACW) next week, Mr. Olbucket and other pastoralists efforts of protecting the world's biodiversity must be recognised and their efforts supported more for a sustainable future.